Coriats was founded in 1978, and from inception we have been committed to providing long term strategic counsel to wealthy international families and businesses as their trusted advisors. We approach every relationship on a long-term basis, and the majority of our clients have worked with us for multiple decades.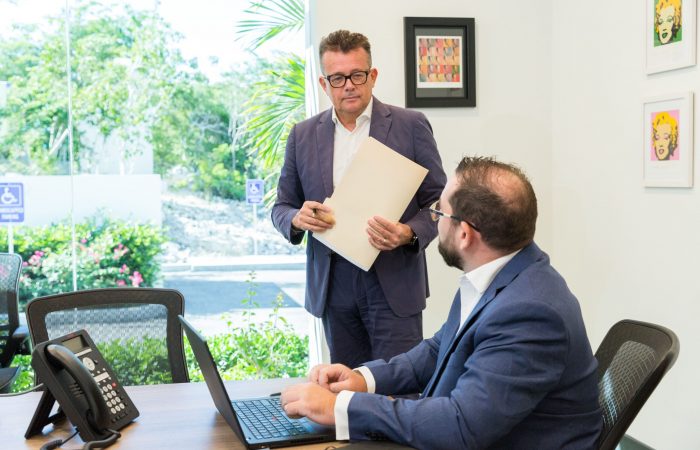 Coriats is a regulated and licensed Trust Company, holding Trustee License Number One in the Turks and Caicos Islands.
We have built a network of strong relationships with investment advisers, international banks, law firms, accountants and realtors all over the world, to help those we serve to achieve their aims.
Since January 2016, Coriats has been part of the G & P group, one of the largest professional services teams in the Turks and Caicos Islands, comprising lawyers, trustees and company managers in separate but allied teams.
Coriats currently manage assets valued in excess of US$600 million, including property, investment portfolios, businesses, aircraft, yachts and other assets located all over the world for a diverse client base of corporates, high net worth families and individuals.
Like Cayman or BVI, the Turks and Caicos is a British Overseas Territory with a strong commitment to the rule of law, and the ultimate Court of Appeal is the Privy Council in London.
No direct taxation whatsoever: so, no inheritance, income, capital gains or property taxes.
Unlike BVI or Cayman the Turks and Caicos is a US$ economy and has a relatively low international profile as a financial services location. We are renowned for our discretion and confidentiality, hence the number of ultra-wealthy who choose to live and visit us.
Recent (2016) new Trust's statute based on the Jersey and Cayman laws with special purpose, VISTRA and Private Trust Company options. New company and insolvency laws (2017) based on the BVI equivalent.
Mainstream (Scotia Bank, RBC, CIBC) and private family banks (Bordier, TCBC).
Great airlift: over 80 flights a week to the US, Canada and Europe.
Traditionally, the trust business has been about sheltering inheritable wealth from taxes and from wastage by future generations. Today's rapidly changing world demands more value added.
Coriats understands that it is as much about identifying and embracing new opportunities for ethical and sustainable growth as it is about the preservation of historic wealth. We welcome the opportunity to work alongside the clients we serve and to look after their interests. We provide practical, responsive and thorough family office and trustee services.
Over multiple decades, Coriats has been known for the quality of business undertaken by the firm. The families and businesses we look after are selective, and so are we. Connecting closely with the family, and/or the introducing adviser, we seek to clarify and develop the key objectives of the structures we set up and manage. This often enables us, drawing on decades of professional expertise, to suggest innovative solutions that enhance results. We work closely with existing advisers and service providers, (or we can introduce reliable resources from our own worldwide network of allies and trusted resources where necessary).
We offer trustee and corporate management services to the highest standards, combined with flexibility, reliability and integrity. Over the years, Coriats has expanded this service  to include full family office, financial and investment administration services.
We have a particular expertise in designing investment strategies to achieve specific investment outcomes at clearly agreed levels of risk , and ensuring a reporting , supervisory and governance regime to enable the family investment culture and objectives to be achieved , whilst including multiple generations in the process.
We also have significant experience in acting as trustees/protectors in contentious and / or insolvent trust situations, where our litigation literacy and strategic dispute experience can be deployed in multiple jurisdictions (we can and do take on trustee and protector roles in most common law jurisdictions).
Trust Allies was launched in 2022 as a global alliance of boutique, independent trust companies.
Trust Allies was launched in 2022 as a global alliance of boutique, independent trust companies. The founding firms, Coriats, HMSA and Clairmont, are all very experienced in providing wealthy families, high-net-worth individuals and corporates with the opportunity to access trust, corporate and family office services in multiple jurisdictions while still working with boutique, independently owned companies. Trust Allies draws on the heritage and expertise of each firm, offering clients the ability to access these services easily in eight key jurisdictions. All the firms in the alliance have a shared vision and approach to client servicing. While the founding firms continue to operate as individual brands, they can deliver services in strategic jurisdictions that are popular for incorporating entities for wealth management . Through the firms' established office network, clients have easy access to a full suite of trustee, corporate and family office services in the Turks and Caicos Islands, Wyoming USA, the Bahamas (Nassau), the UK (London) , Ireland (Dublin) , Switzerland (Geneva), South Africa (Johannesburg) and New Zealand (Auckland). Link to Trust Allies.

We want any relationship to be clear and transparent , so we will work hard with  you to ensure any charges are clearly agreed, and that at no time will there be any surprises about the fees we charge (either as to amount , or timing).
Our charges are usually a mix of fixed fees for trustee roles and the structures that underpin them, and time charges for non-administrative work .
We are flexible on fees, and always  willing to discuss fee levels based on a long term relationship.